Online Fax
Use PamFax online in your web browser – easily and from everywhere.
PamFax is the latest generation of online fax solutions which combine comfort, flexibility and security.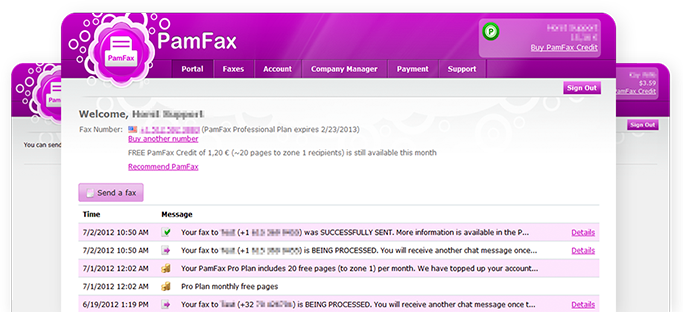 PamFax is also available as a local application for Windows, MacOS and Android. However if you only want to send a document (PamFax accepts over a hundred different file formats) or you are using a public computer, then you can use your PamFax Portal access to directly send a fax via the web browser.
The way this works is exactly the same as if you would start PamFax as application on your computer – it even looks exactly the same! After logging into the PamFax portal page, you have a menu option to send a fax. Your credits are there too. To send you will see the same interface that you see on your computer locally with the same security levels.
Besides sending a fax from the portal, you will be able to watch the status of your fax transmission and also will receive Skype messages, emails and/or SMS messages updating you with the status.
Your data is encrypted with the same standard used by banks and online shops. We want to make sure your data is transported securely.
You can either use the fax software application or fax online with the PamFax Portal directly.