Online Fax
Use PamFax online in your web browser – easily and from everywhere.
PamFax is the latest generation of online fax solutions which combine comfort, flexibility and security.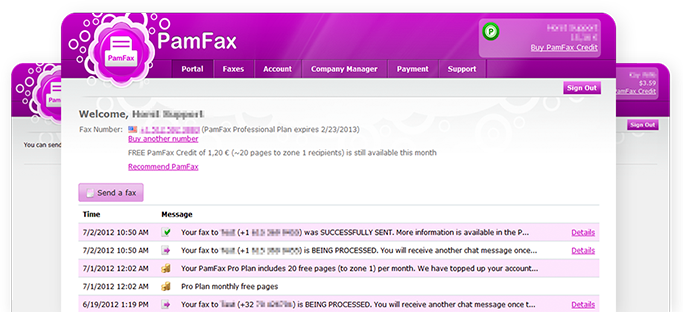 PamFax is ook beschikbaar als lokale applicatie voor Windows, MacOS en Android. Als u echter alleen een document wilt verzenden (PamFax accepteert meer dan honderd verschillende bestandsformaten) of u gebruikt een openbare computer, dan kunt u uw PamFax Portal toegang gebruiken om direct een fax te verzenden via de webbrowser.
De manier waarop dit werkt is precies hetzelfde als wanneer u PamFax zou starten als applicatie op uw computer - het ziet er zelfs precies hetzelfde uit! Na het inloggen op de PamFax-portaalpagina heeft u een menu-optie om een fax te versturen. Uw credits zijn er ook. Om u te verzenden ziet u dezelfde interface die u lokaal op uw computer ziet met dezelfde beveiligingsniveaus.
Naast het verzenden van een fax vanaf het portaal kunt u de status van uw faxverzending bekijken en ontvangt u ook Skype-berichten, e-mails en/of sms-berichten waarin u de status wordt bijgewerkt.
Uw gegevens zijn gecodeerd met dezelfde standaard die door banken en onlinewinkels wordt gebruikt. We willen er zeker van zijn dat uw gegevens veilig worden getransporteerd.
U kunt de faxsoftwaretoepassing gebruiken of direct online faxen met de PamFax Portal.